Regular price
Sale price
$64.00 USD
Unit price
per
0% off today!
Sold out
🚚 Free shipping over $45
✈️ Express shipping available
🚀 Same day dispatch till 12pm
↩️ Free 30 Day Returns
---
You're looking at the Crockd Pottery Kit, USA's favourite DIY clay kit for adults built around getting out of your head and into your hands. Perfect for a solo sesh, couples date night and large groups looking for a good time to get a bit messy with some great conversations. 
Feeling really creative?
Get our Air Dry Paint Kit bundle for the perfect crafternoon you'll be proud to show off on your socials! 
See What's Included

✔ 2x Large Bags of Crockd Clay
Makes 2-4 creations for 2 people. Eco-friendly, moist, and hybrid clay that can be air-dried or fired.


✔ 1x Crockbook (10+ Creations)
Easy to follow instructions with illustrated steps for 10+ pieces you can make anywhere.

✔ 1x Claybreaker Convo Card Set
Carefully curated conversation starter cards for anyone.

✔ 1x Custom Pottery Tool Set
5 Branded, handmade wooden Crockd Pottery Tools for you to wield with wild abandon.

✔ 1x Reusable Tote Bag
Perfect for left over clay and tools or whatever you'd like to chuck inside.

✔ Air-dry or Firing Deets
The dirty deets on what to do with your finished piece — from firing and glazing to air drying and painting.

Plus it all comes packaged up in a gorgeous Crockd Gift Box — which is eco-friendly, functional and perfect for gifting to yourself or others (hint hint!)
---


❤️ Optional Date Night Bundle ❤️
This limited edition Date Night Air Dry Pottery Bundle comes with:

👉 Pottery Kit for 2 People
👉 1x Adulting is Hard Conversation Cards
👉 2x Linen Aprons

Only while stock lasts! 
Air Dry Clay or Fire in a Kiln

👇 Is this air dry clay or ceramic clay?
It's both! Ahhhmazing right? Our specifically engineered hybrid formula means that Crockd Clay can be left to air dry or taken to your local kiln to become ceramic. So fancy! So fuss-free!

👇 How do I make my clay waterproof?
Air Dry: Grab one of our Crockd Paint Sets - they include paint, brushes & sealant - everything you need to paint and make your clay creations water-resistant without having to fire them.

Ceramic: you've got to find your local kiln and ask them to look after you. This will make it waterproof and food safe. Don't worry - we include all the detailed instructions inside your kit (it's super easy) and a local kiln map.

👇 Should I use the kits right away or can I save the clay for another day?
We pack our Crockd clay in biodegradeable heat sealed bags so they last a good while, keeping the clay nice and moist! Your clay will last for up to 6 months if kept in a dry, cool place. But honestly, schedule that crafternoon in asap! Otherwise the year will be 2025 before you know it.

👇 I'm not really creative though. Is this for me?
Want to know a secret? Everyone has a creative streak. Even you. But we also know how intimidating "being creative" can feel — that's why we include easy to follow instructions and create inspirational tutorials so you can get started using the clay kit straight away.
Pottery Kit for 1-2 People

Crockd is a purpose-driven creative mindfulness experience. We created the world's first at home pottery kit that simulates the effects of art therapy without having to go to a pottery studio class.

Each kit includes a set of 'clay breakers' - cards specifically designed to help prompt conversation or internal reflection and act as a mental health 'check-in'. Nothing too serious, just some help to have those conversations you wish you had with friends or yourself more regularly!

So grab a buddy or lock yourself in for a solo date, it's time to get dirty.
Free Shipping over $45

Don't you hate getting smacked by some ridiculous shipping cost when checking out? So do we!

Just add $45 or more worth of products to your cart and enjoy free shipping anywhere in the USA!

Outside of the USA?
We work hard to keep our shipping rates low and make sure we include all duties/taxes in your rate when you check out. No surprises or random emails from the government requesting tax payments - we've got it covered.
Same Day Shipping

USA: 

Shipped same day up to 12pm (Mon-Fri) from CA
Standard (3-7 business days)
Express (2 business days)

International:


Shipped same day up to 3pm AEST (Mon-Fri) 

Express (2-5 business days)

Duties & Taxes Paid by Crockd

Some orders may require extra time to pass customs clearance
Zero Single-Use Plastic

Crockd's mission is simple - to get the world out of its heads and into its hands. In saying that we're aware of the effects on the environment and commit to having sustainably sourced product and zero single-use plastic in our kit creations. Go on - get messy, get mindful!
Change of Mind Returns

We get it, things happen and you just want some confidence in a simple solution to return your Crockd products for an exchange or refund - we've got you. Visit our page for us to sort it out for you
View full details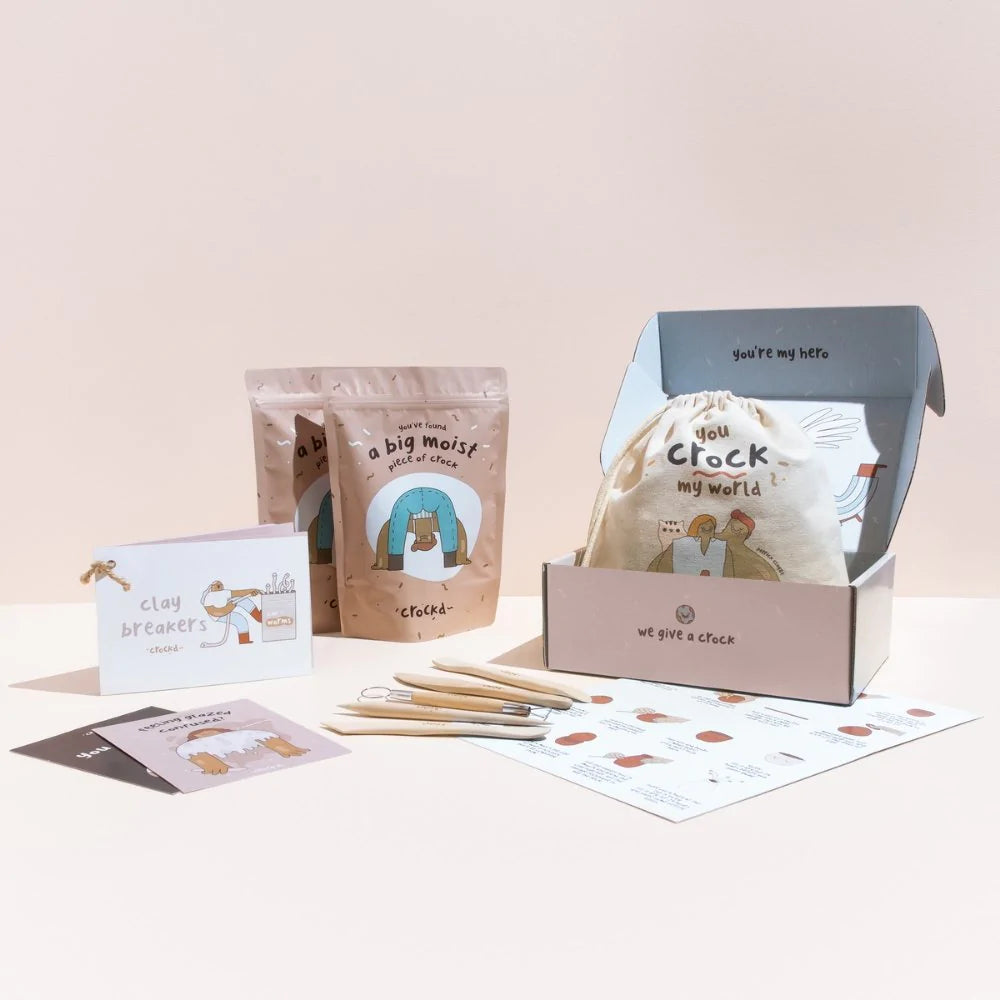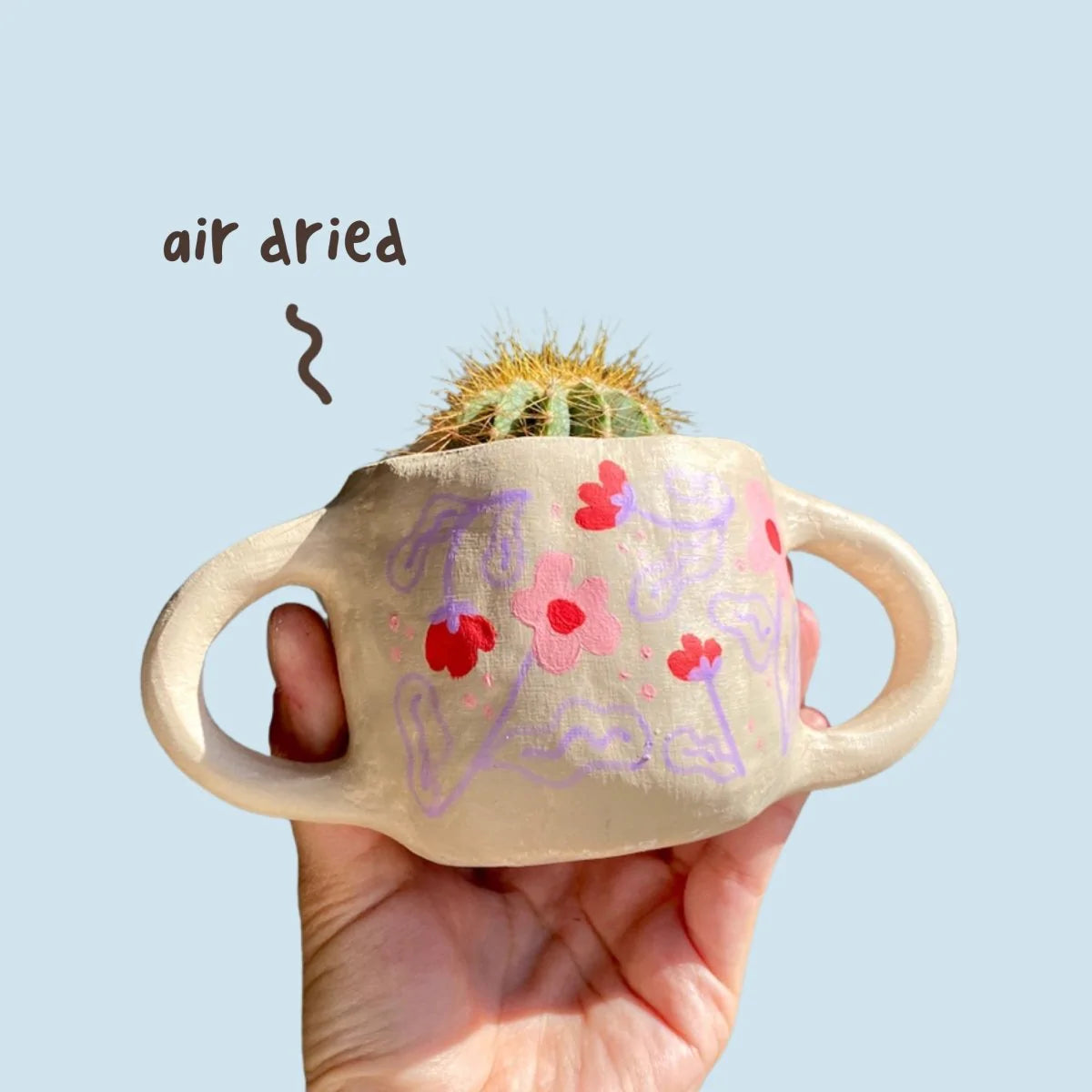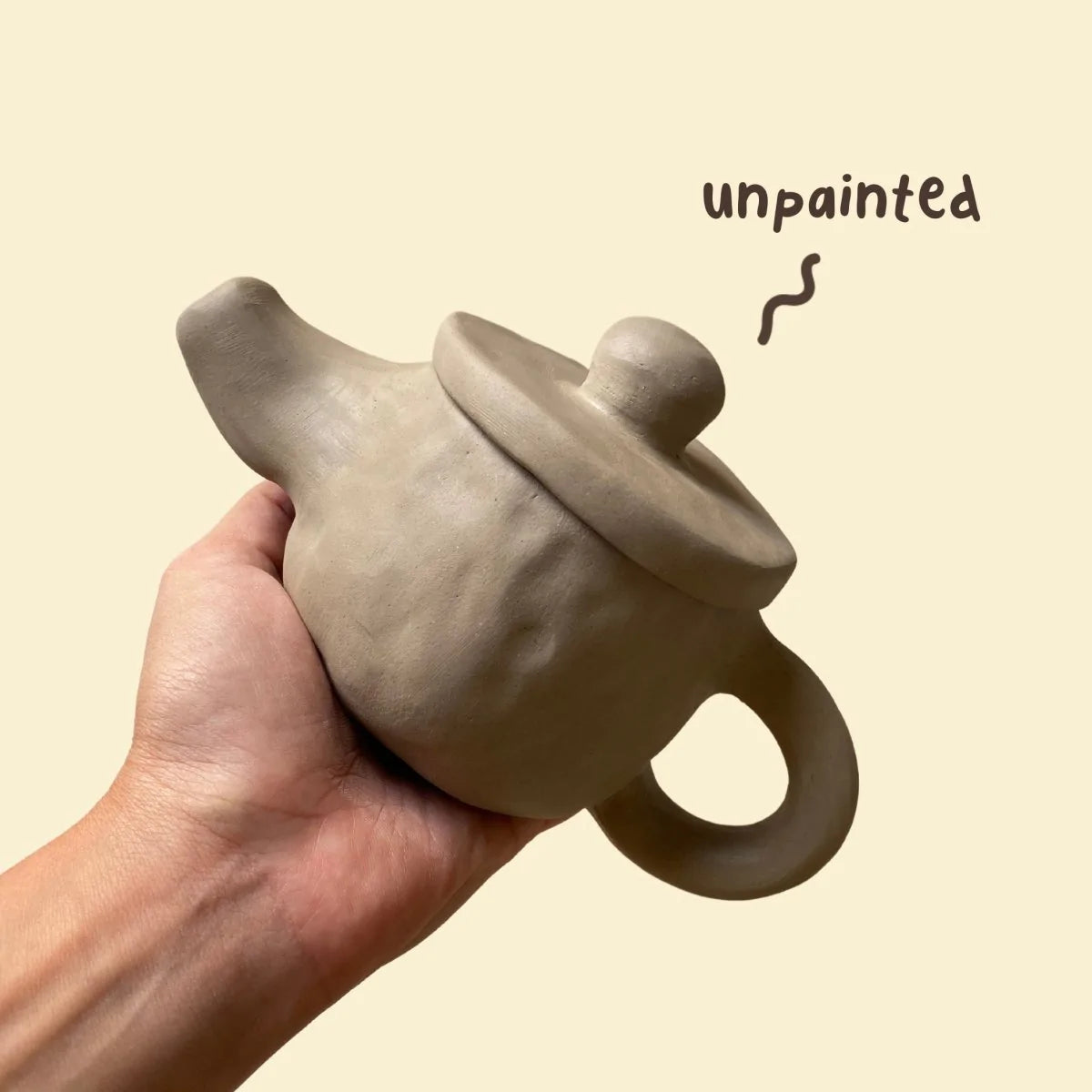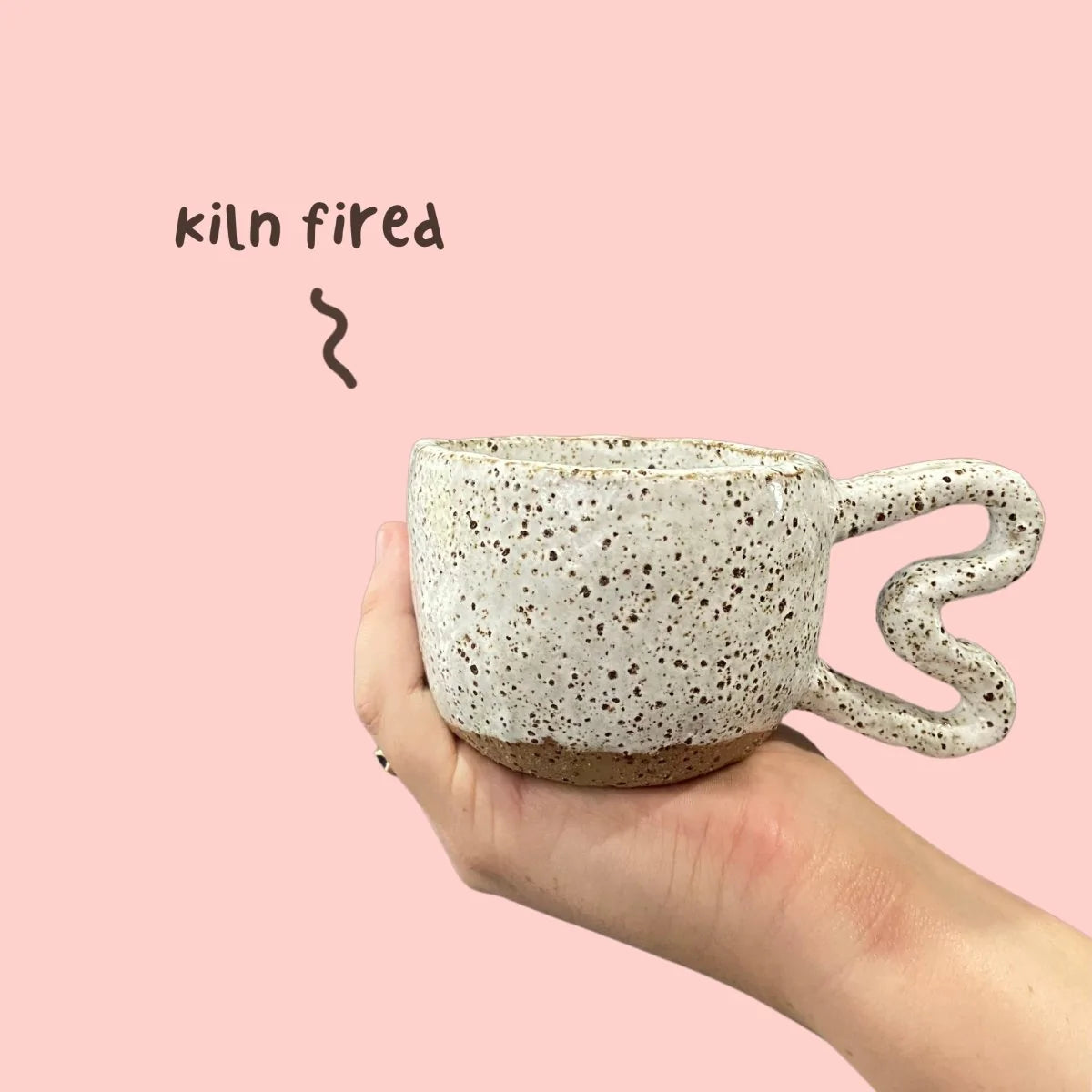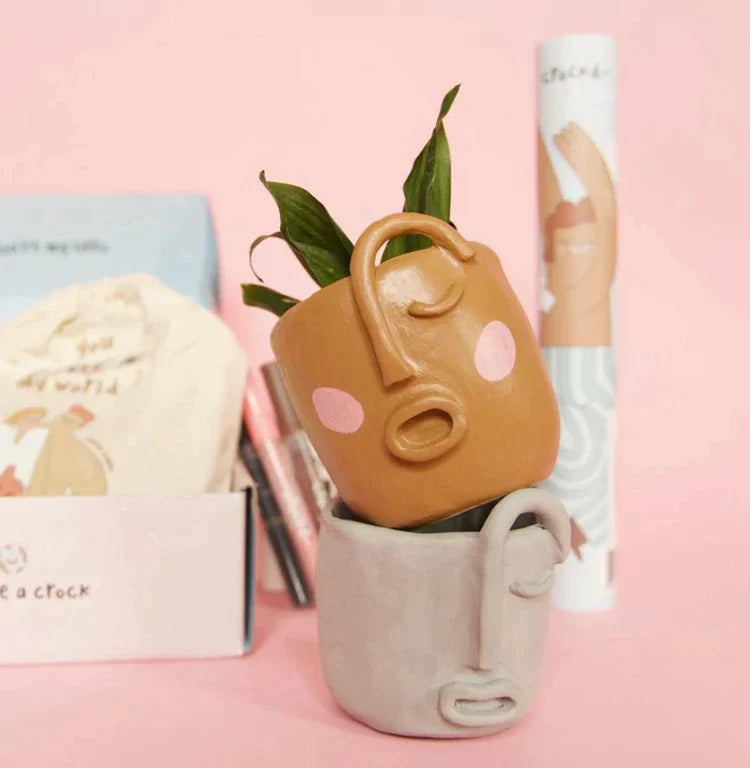 No kiln trips required
We've crockd the code on DIY clay kits. Every Crockd Pottery Kit comes with our signature Crockd clay, which is eco-friendly, locally sourced and perfectly moist.
Once your creation is complete, it can either be fired in your local kiln, or air dried from home. 
You'll even find a guide inside your kit that shows you the exact steps to take to make an air dry piece water resistant!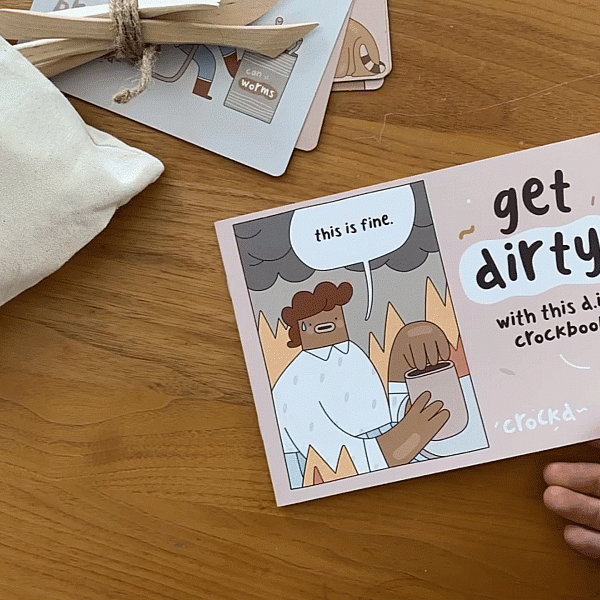 no experience? no worries!
The Crockd Pottery kit is the only DIY pottery kit for adults that teaches you how to turn that lump of clay into different things. 
Flick through the included Crockbook — a 10 page step-by-step pottery guide that teaches you everything from crafting mugs, vases, incense burners, candle holders and everything in between. 
Follow along or get inspired from our completely free video tutorials to add finishing touches to make your pieces truly unique. The only wrong choice is keeping your hands clean!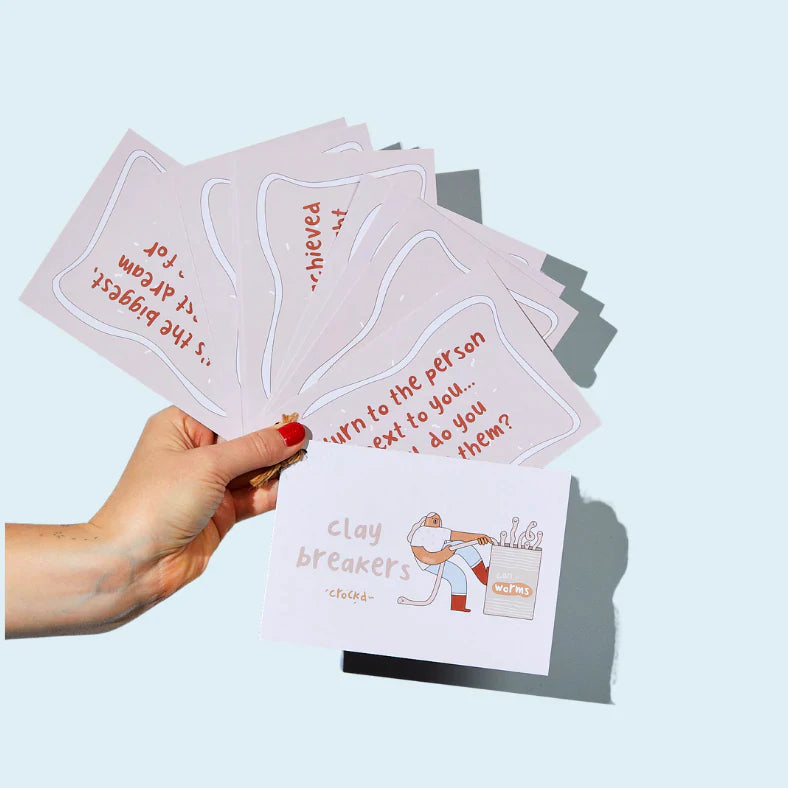 get deep and dirty
We've intentionally designed Crockd Pottery Kits as the perfect activity to get deep and dirty.
With busy hands and a reflective state of mind it's easier to talk about stuff that really matters.
Our unique clay breaker conversation cards make it easy to get the conversation flowing with anyone — perfect for first date nights and random crafternoons.So what are you waiting for - get your hands dirty and set your mind free!
Get out of your head and into your hands
We believe that creativity is an underrated mindfulness practice, not an innate quality or an end result — which is why our craft kits are designed to help you disconnect, reconnect and get dirty.
Eco Friendly

Hand Made

Fast Shipping

Cute Packaging
Peek inside your DIY Pottery Kit 👇
Not sure if this kit tickles your pickle? Unbox your DIY pottery kit with us below.